We're coming up to the 10th anniversary of the attacks of Sept 11th 2001, or if you will 9/11, and the telly is full of reminiscences. I am reminded of doing stand up comedy at the time. On September 12th or 13th 2001 I was on the bill with Brendon Burns who repeated a pub joke he'd heard which went:
It's ten years after September 11th, a father & son are in New York.

Son: Dad? What used to be here?
Dad: This was the Twin Towers. They were bombed by some Arabs.
Son: Dad? What's an Arab?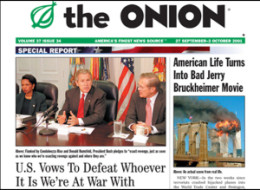 You had to be there. But it does evoke a lot of the sentiments bounding around at the time, namely feelings of revenge and talk of retaliation. Well, if simple tit-for-tat revenge is what anyone was looking for, these figures on Wikipedia should show how things are going.
Civilian casualties caused by ISAF and US Forces in the War in Afghanistan (2001–present)
shows how, by even the most conservative and official of estimates, the 3000 people who died in the Twin Towers attacks were matched by the 3000 civilians killed by troops in Afghanistan by 2003.
3000 people were killed by 2003. In Afghanistan alone, and those are just "direct civilian deaths". "Indirect civilian deaths" came to at least 3,200–20,000. By 2003.
So, when I'm watching a TV news story concentrating on the death of one "local" British civilian who died on Sept 11th 2001, it is still a very sad thing. But I feel it calls for putting into perspective. Every death is a bad and a sad thing. 11/9/2001 saw 3000 deaths, the wars in Afghanistan and Iraq have seen an unimaginable amount more. Where are their Anniversary TV shows?
**************************************
On a lighter subject, I did a bit of Doctor Who inspired Youtoobling last night, and threw up these gems:
Discovered a very enjoyable
Doctor Who vs Queen
mashup #drwho #freddie #mercury
More good fun,
Doctor Who meets Disney
#drwho
Aaargh!
Doctor In Distress
. horrific #drwho song with 1980s pop artists #doctorwho #youtoobling
I Am The Doctor
, Jon Pertwee. My, there's some ripe stuff out there #drwho #youtoobling
A Doctor Who companion called Mel?
Oh no, it's not short for Melody is it? #bonnielangford #youtoobling #drwho
Doctor Who fact fans,
Bonnie Langford's middle name is Melody
. Be afraid, be very afraid #riversong #drwho
Vision On theme
#youtoobling
The Persuaders
#youtoobling
Simon Templar
, Splodgenessabounds. Classic #youtoobling
The Saints,
I'm Stranded
. Well, I've never heard it before. But if they say it's 1977, it must be #youtoobling
A really quiet
Richie Blackmore & the Outlaws
from Live It Up which also featured The Saints #youtoobling
When the Saints go Marching In
, Louis Armstrong #youtoobling
Armstrong & Miller,
Nude Practice
#youtoobling
We Don't Have To Take Our Clothes Off
, Jermaine Stewart on #totp #youtoobling